THE RIGHT HONOURABLE DEAN OLIVER BARROW
Prime Minister of Belize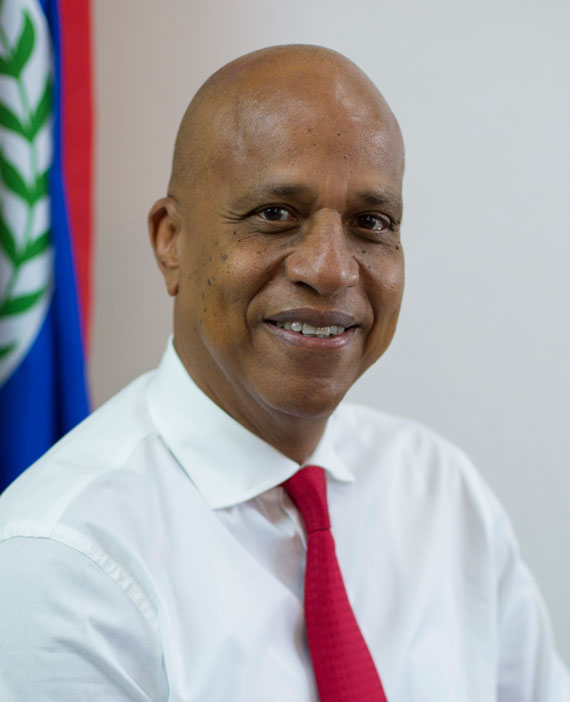 The Right Honourable Dean Oliver Barrow was born in Belize City, Belize on March 2, 1951. In December 1983, as a member of the United Democratic Party (UDP), he officially entered electoral politics as a candidate for the Belize City Council elections, in which he was successful. In 1984, he vyed as the UDP's representative for the Queen's Square Electoral Division in the general elections, defeating Ralph Fonseca, the representative for the People's United Party (PUP). He was appointed to Cabinet and served as Attorney General and Minister of Foreign Affairs from 1984-1989. 
Though his party did not gain a majority in the 1989 general elections, Barrow again won his seat in the Queen's Square division. After the UDP's second win in 1993, in addition to being appointed Attorney General and Minister of Foreign Affairs, Barrow was also named the Minister of National Security. He served in these posts until 1998. Since 1984, Barrow has won six consecutive general elections as the UDP Queen Square candidate.
In 1998, Dean Barrow became the leader of the United Democratic Party, replacing former Prime Minister and leader of the UDP, the Right Honourable Sir Manuel Esquivel. 10 years later, on February 7, 2008, Barrow was sworn-in as the Prime Minister of Belize and Minister of Finance after leading the UDP to a massive victory, capturing 25 out of 31 seats in the House of Representatives. Since then, Dean Barrow has won his seat and led the UDP to victories in March 2012 and November 2015. After his third consecutive win in 2015, Prime Minister Barrow was named as a member of the Privy Council by Her Majesty Queen Elizabeth II and conferred the title of "Right Honourable". 
Since 2008, in addition to Minister of Finance, the Prime Minister has also served as the substantive Minister of Natural Resources; Economic Development; Labour, Local Government and Rural Development; Energy, Public Utilities, Public Service and Elections and Boundaries.
Prime Minister Barrow is also a very successful and well respected Attorney-at-Law. As a young man, Barrow attended St. Michael's College in Belize City. He furthered his education at the University of the West Indies in Barbados (LL.B. 1973), the Norman Manley Law School in Jamaica (Certificate of Legal Education, 1975), the University of Miami School of Law (LL.M., 1981), and the University of Miami (M.A. International Relations).
The Prime Minister is married to Mrs. Kim Simplis Barrow, Special Envoy for Women and Children. He has four children.